People ask me if the kid I'm carrying in my YM pic is my kid. How I wish! But, she's not.
Next year pa ang kid ko. No donors yet, hahaha! Seriously, when I reach 35 pa. I need my 5 years of freedom before a baby.
She's our neighbor's kid but she's always at home because she thinks my dad is her dad. Hehehe! She's closer to dad than her biological father. She has a stash of clothes at home. Shoes, slippers, powder, accessories, baby foods... you name it! Kulang na lang yung crib niya. She's the baby of the house so all our attention is on her. Kaya, every payday, may pasalubong kami sa kanya!

We love this kid so much! She's given us so much fun and laughter, most specially when we're
still coping with the loss of my mom. She's God's gift to us. Her name is Hazel, but we call her
Etey
.
Why?
Because her brother cannot pronounce her name properly and ends up calling her Etey all the time. Thus, the nickname...
At around 5AM everyday, she knocks on the door and calls out "Dah!", which means "Dad!". Dad will take her from her mom and will take Etey to our room to wake us up. Maaga pa magising sa amin! Hahaha... During the day, she stays with dad and will just be taken by her mom to breastfeed her then back to dad again. She goes home at 8PM kasi sleep na siya by that time. Sobrang babad sa bahay ano? She even calls me up sa office just to say "Te!". Nakakatuwa sobra!
And take note, her pic was inserted in the family photo frame! Mahal sobra ng dad ko! Hahaha!
And my other bebe...
the
man in my life... kahit pasaway na kasi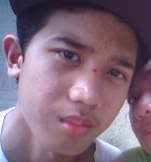 he's already in the "transitional stage", according to kuya... our bunso...
James
has always been the baby in our family. Everyone loves him and babies him. Kaya naman he grew up spoiled.
Kasalanan ni ate at ng mommy!
Hahaha!
And what can we do, we already lost a boy in the family kaya ganun na lang ang love namin kay James.
Defensive ako! Hehe
Almost a year after he was born, dad went abroad to work. My mom was having post-partum sickness or whatever you call it that's why she didn't want to take care of James back then. I took care of him and acted as the mom. Kaya when he learned how to talk, he called me "mama", yan una niya sinabi... sa harap ng mga kaibigan ko! Kaya tinutukso nila ako dati na anak ko si James. Uhm, I was 14 that time and I don't think I can get pregnant and deliver a baby without everyone knowing about it :)
I call him "
bebe
". Just a year ago, he couldn't sleep without me but now... he only does when waking up in the morning. Nilalamig tapos tatabi sabay balik tulog!
I remember din, he was already grade five that time and he's nahihiya na when being called bebe. Nakasanayan ko kasi. Already left his classroom after getting his report card when he called me back. Nagulat ako kasi nag-kiss sa akin. Kita mo sa mukha niya na nagulat din siya. Akala nasa bahay! Hehehe! Dedma na lang siya, babye sa akin tapos nakita ko balik sa upuan. Ang tuwa ko nun sobra! Para akong nanay! Hehehe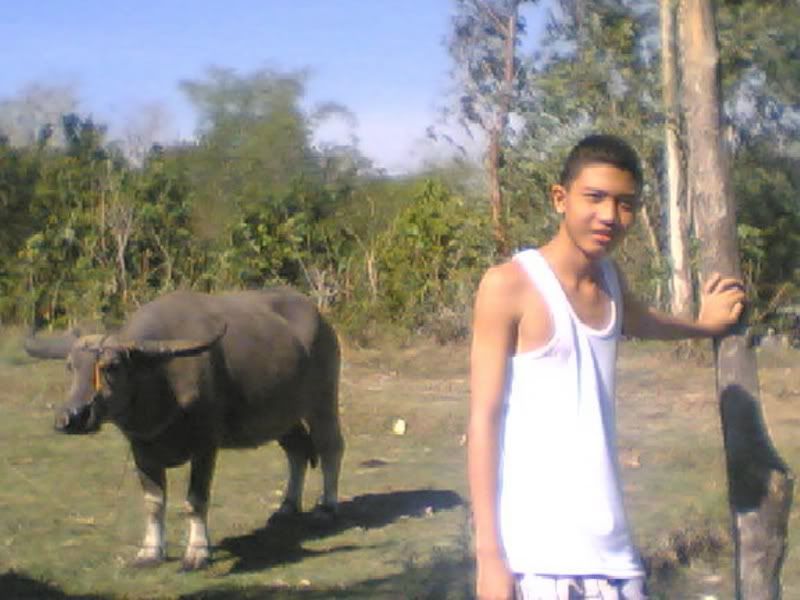 Time flies so fast! Parang kailan lang, karga ko pa siya lagi. Ngayon, hanggang dibdib na lang ako ng bebe ko! Gulat nga rin ng mga friends ko who saw him until he reached 3 or 4 years of age... they can't believe that the baby we took turns carrying during practices is already a 15-year-old kid! Baka a year or two from now, magkakalakas-loob ng magpakilala ng girlfriend... lagot sa akin yung girl na yun!
He's always brooding and quiet. I make it a point to always ask him about school and talk to him about the "uso" among his age. Kaya nga, eventhough I don't like some local rock bands that much, pinapakinggan ko na rin and inaalam. At least, he can talk to me about it. Pati usong brands, I need to know otherwise, sisimangutan ka if you can't relate to what he's saying.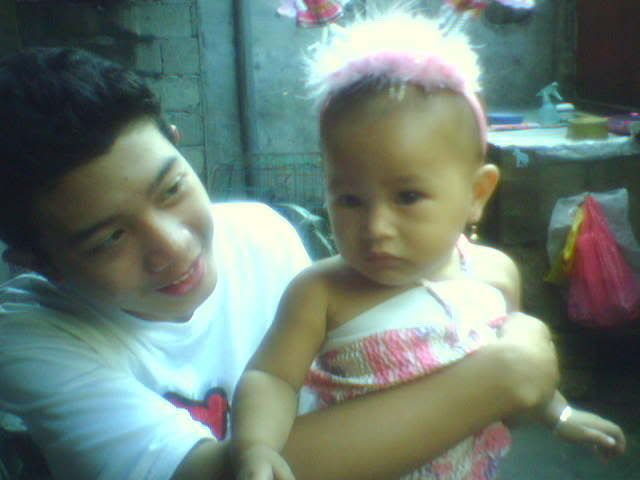 But, he's always been malambing. He knows when to ask for things and he always gives me his excess money. Kaya lang may kapalit this time... merong sinasabing brand ng shirt at sapatos. I forgot kung ano. Hehe... Pareho kami ng ugali actually. I can see myself in him. Pareho pa kami ng sense of humor nyan kaya siguro if he's a girl lang, bungisngis din.
There was a time when Hale wasn't popular yet and we're both talking about Broken Sonnet, the band's first hit song. Sobrang gusto namin pareho! We would listen to it everyday, nagagalit na ang dad sa amin! Hahaha! Tapos when Hale became popular, ayaw na namin.
Magkapatid nga kami :)
~ Removed my pics due to uhm risk of overexposure *wink*